Hi, friends!
I'm so bad about blogging, but I'm breaking my blogging fast to bring you some news.
I wanted to thank everyone who bought and/or reviewed My Curvy Valentine. I appreciate it!
Many of you have been asking if Clayton (Maggie's brother) and Steven (Carter's best friend from Gentlemen Prefer Curves) will get their own stories.
I hope so. I've got ideas swimming in my head for them both, but their stories might not come to you until next year because....
I'm writing a new series called, The Bad Boys of Destiny!  Want to hear about it?
Bad Boys of Destiny
             Duke, Colt and Levi King were dealt a bad hand when it came to life. After their mother died and their alcoholic father skipped town, they were faced with being separated and going to foster care, or living with an aunt who really didn't want them. The town of Destiny, Nevada, wasn't always so kind to the wild sons of the town's drunk and when a nasty fight sends with the police chief's son sends the oldest King boy to prison, the boys realize that making a life in Destiny is not in their future. After going their separate ways for a while, the brothers move to Las Vegas and open King's Customs, a custom car shop that bloomed into an empire. With Duke running the operation, Colt managing the money, and Levi being the face of the brand, the King brothers are showing the world that the poor kids from Destiny finally made something of themselves. But when their gravely ill Aunt Lolly calls them home they have no choice but to go to the woman who kept them together and out of foster care. Being back home in Destiny was the last place they wanted to be, especially when they are tasked with fixing up and running her ageing beauty salon in her absence. Little do the brother's know, their Aunt Lolly has more in store for them than just helping her save her business. She wants to change their lives by putting them in the path of three sexy, strong women that will teach them there is more to life than just work.
The first book should be coming to you in late fall and features, sexy Colt King, a former bad boy turned finance guru and the sassy, curvy hairstylist Zanna that drives him wild.
Blow is a picture of my bad boy, Bailey, who was under the oven.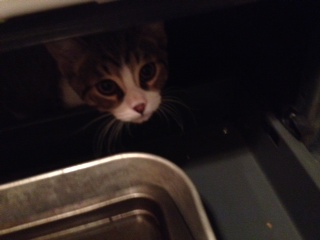 Categories: None